When people talk about decorating their homes, the conversation usually revolves around beautifying the "four walls" in the best way. So much love is given to the same. Often, even if the budget allows for something more, the next thing that is taken into consideration is the floor. How the floor looks, how it feels when you walk on it, how it complements the rest of the furniture articles in the room, and what material it is made of.
However, when suggested to decorate the ceiling, it's like people often tend to regard it as an "optional extra". They deem it to be unworthy of being decorated or paid much attention to for some other reason. The excuse is usually something that sounds like this:
"Well, people don't spend that much time looking at the ceiling anyway, so what's the point of spending money on it?"
Cheap ceiling ideas for the living room
The point is, the reason people don't look at ceilings that often is because they are usually not decorated. As an example, think of churches or other religious architecture. You almost always stare dumbfounded at the beautiful artwork and designs on the ceiling. You can't help but gaze in wonder what they mean.
The same philosophy works for your home as well. Even more specifically, your living room. Reason being that it's the place where you spend most of your time in your home. A decorated ceiling doesn't just look beautiful, and it also helps your home stand apart from most other apartments.
Not only that, but a well-decorated ceiling can also be a great conversation starter. For instance, if you have your friends or relatives coming over to hang out or celebrating festivals.
Install chandeliers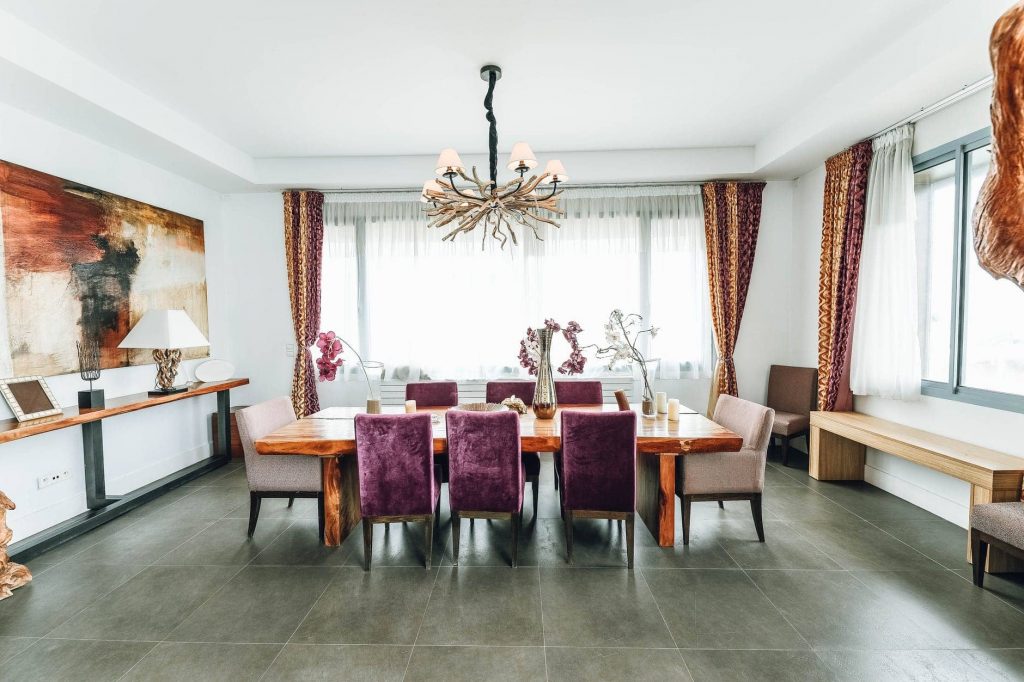 You saw this one coming, didn't you? Often, chandeliers are seen as something only the super-rich can afford. We usually do not consider these are everyday home décor items. But that's not the case, at least in our opinion. Chandeliers, in reality, are not that expensive and are affordable for the middle-class family.
Unsurprisingly, they come in a lot of shapes, sizes, and different levels of exotic. You can quite easily find a chandelier that goes smoothly with the vibe of your living room. It can help you beautify your ceiling and steal all the attention of your visitors.
If you happen to have your TV over a fireplace, then adding in a chandelier can create a beautiful duality between natural and human-made in your living room and give you that all-in-one feel.
However, while installing a chandelier, make sure to check that the light reflected from it doesn't interrupt your viewing angles from the couch when you're watching the TV. Otherwise, you might have to adjust your sitting position repeatedly whenever you sit down to watch TV.
But don't worry, we have a way around this limitation. With the help of a modern TV mount, you can tilt and swivel your TV in different directions. This can help you avoid getting any glares coming on the TV screen. If you need more info about TV mounts or a guide on how to mount a TV on the wall without studs, click on the link to visit and take a look at our self-help article that we made just for you!
Get creative with lights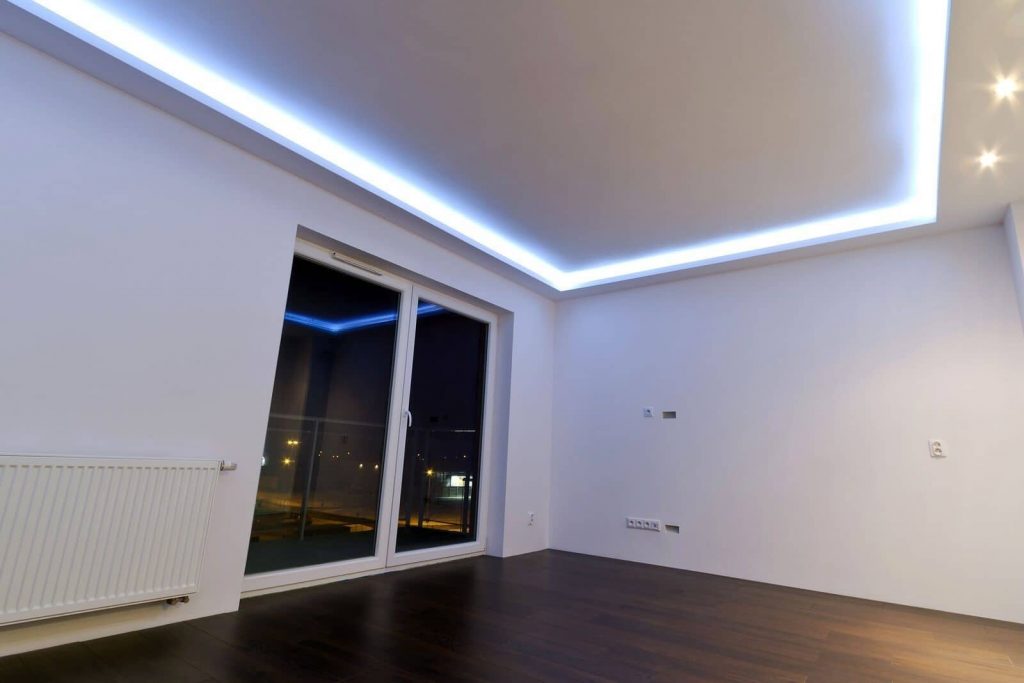 Gone are the days of boring-looking bulbs and tube lights. Today, more and more people are starting to understand the value of ergonomics and design in their everyday lives.
That's why they have instead started to opt for designer LEDs over regular ones. The former better suit their style and go with the vibe of their ceiling and the living room.
For instance, you could try installing fairy lights around the edges of your ceiling. This can give your living room a more dreamy and dramatic feeling, especially at night, when the effect will maximize!
If you happen to have a tray ceiling installed instead, you can use lighting the smart way. This will help highlight the crevices of the design with LEDs like shown in the image below:
White will wait in the cheap ceiling ideas list
Most people opt for a straight and straightforward white-wash as a color option for their ceiling. Even though there is nothing wrong with having a clean white ceiling, it is still not far from the truth that white has become too much of a cliché and doesn't invite as much attention anymore as it used to before.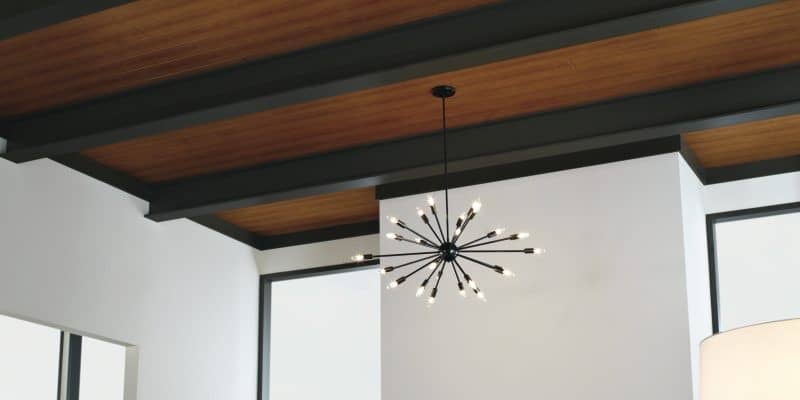 As an alternative, try using different colors that match the theme of your living room. For instance, if you happen to have a minimalistic set-up, painting your ceiling sky blue or grey can feel light and breezy without appearing too intense. This is especially appropriate for people who work from home and looking for a more ergonomic vibe.
However, if light-and-breezy doesn't sound like 'you' to you, and you'd rather prefer something else, you can try to opt for a more natural alternative instead: a textured wooden ceiling.
A wooden ceiling is not unique and adds style to your ceiling wall, but is often claims to deliver a feeling of 'Zen,' a Japanese concept that hints at calmness, serenity, and tranquillity.
Let the mirror do the magic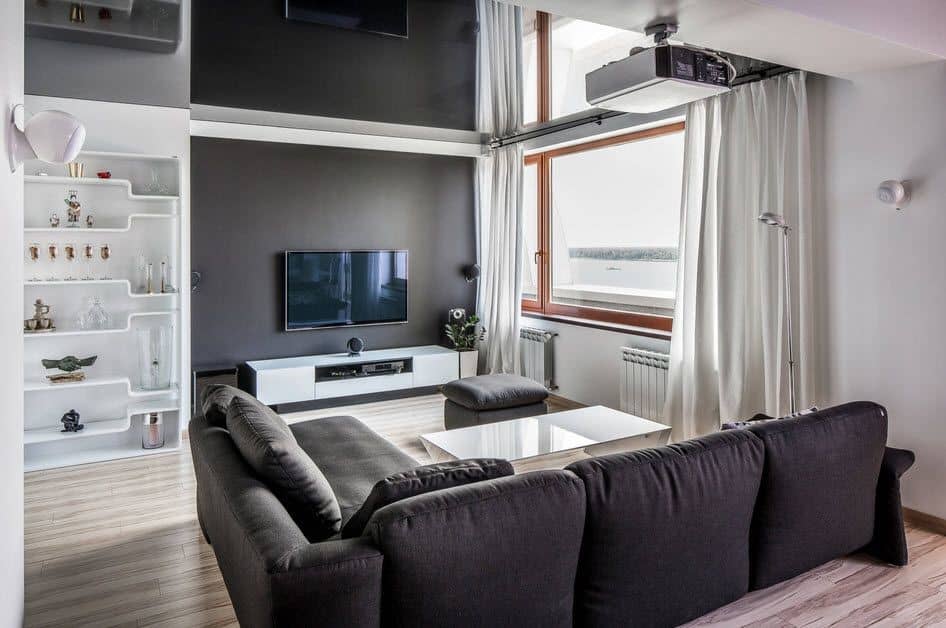 One of the most ambitious and creative solutions brought to the table by far is using mirrors as a ceiling décor accessory. It's a growing trend in the urban era to try new and innovative ideas continually, and installing mirrors seems to be the next big one.
The major benefit of having mirrors as a ceiling décor is that you no longer have to worry about which color to pick. What's even cooler is that mirrors give out the illusion of having double the parallel space than there is.
This means that your living room will feel a lot more spacious and bigger whenever you look up at your ceiling. You can try going for different shapes like honeycomb, circles, or squares and see what works best for you!

Conclusion
Decorating your home is undoubtedly a beautiful feeling and your ceiling, just like all the other walls of your living room, is a canvas for you to paint your personality on. The style you end up picking says a lot about you; it's a subtle reflection of who you are and the values you hold dear and wish to share.
Try out different ideas from our list and see what works best for you. We hope we were able to help you and add a bit of beauty to your everyday life!