If you are thinking of giving fresh air to your living room and refurbishing the furniture is your idea, then we are here to help you out. Who doesn't like to have a bright living room where the family can sit back and relax? The particular room should be a place that omits positivity and vibrancy.
Everyone has their own way of decorating and beautifying their living room. One may prefer a hammock or some unique pieces of vintage furniture while others may want to add wall art or decorative items to the place. In this article, we discuss how a bright-colored sofa can beautify your home's overall look. Firstly, let's discuss how to choose a brilliant color sofa set. Color is a technical matter. Let us guide you on it.
How to choose the right sofa color for your living room?
To make a colorful living room, one needs to pick bright colors for the sofa. There are two techniques one can follow. Either one can go for contrast or can stick to a monochrome tone. Choose your preference first either you want the sofa to pop out in the room or want any other object such as painting or the center table to pop out, so the couch remains the part of the setting.
Suggestions for Sofa color for the living room
Well! We suggest you go for bright-colored couches. We have a few colors as a suggestion for you. Let's dive in!
Bring in a green sofa
Perfect for the people who live in the summery areas or rarely have greenery around, such as living in metropolitan cities. The green sofa is a grab for you as it instantly brightens up the mood for you. Imagine coming home after a long day at work and chilling on one cozy, comfortable green leather sofa with your family and kids. Invest in something that brightens up your mood in minutes.
Blue sofa for a cooling effect
The blue sofa is already at the highest preference for a lot of people. Many people invest in a blue leather sofa or a blue velvet sofa because it gives a cooling effect to the eyes and the living room's overall mood. Also, one can go for a blue sectional sofa to make it more size and space-efficient. Many people desire a navy blue sofa or light blue sofa to chill out in the living room. The living room with the blue couch looks super elegant and contemporary. As discussed previously, one can also make combinations like black and blue sofa and lift the game in their living room.
A bright red sofa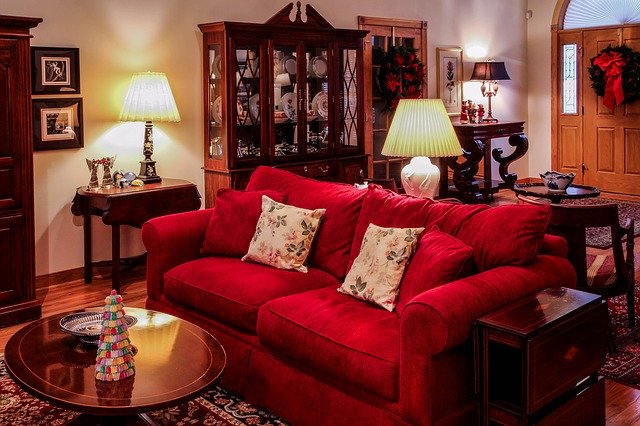 Who can ignore the color, which probably has the most meaning? Yes! We are talking about the legendary red sofa! This color can change the game for your living room. You can go for a red leather sofa for the living room or decorating with a red couch that can do wonders.
There is a lot of work already done on this kind of a bright color sofa. You can check out red couch decorating ideas on the internet and customize yours accordingly.
Yellow sofa and bright yellow pillows
Yellow is a little risky, but the yellow sofa can add instant brightness to your living room, yet the color is not that deep. If you think it will get dirty soon, you can go for a yellow leather sofa. One can go for a combination of it by adding different tones of yellow sofa pillows. Do consider a yellow-colored sofa set if you want to bring a change to your living room. One might need to put extra effort into cleaning and maintenance, but it can be worth it as it will beautify the living room to a whole new level.
Bring in style to your place with a grey sofa
Grey sofas are very common but yet can magnify the game if combined with multi-colored sofa cushions. Check out those fantastic grey leather sofa ideas and specifically those grey sectional sofas that can be a valued addition to your living room.
Enjoy chilling on the sofa purple in color
We are talking about the cool sofa that reflects royalty and luxury. Yes! The fantastic and versatile purple sofa. It is a valuable addition to your living room, especially if it's a purple velvet sofa. The purple sofa set is the perfect living room brighter and can quickly satisfy your brightly colored sofas' hint.
White sofa or couch
White sofas are rare and extremely hard to manage, but if you opt for white leather sofas, they can make your rooms look bigger and brighter than before. You can add a small white sofa or a couch so your living room is fresh. If you are looking for some options regarding the same, make sure to read more here. 
Good luck decorating the living room with bright colored couches
So, we have discussed some fantastic sofa colors that can change your living room's overall look. Bright color sofas are a great idea to pick. We hope you find a perfect one to measure upon as soon as possible, which aligns with your inner energy and vibes. After all, there is nothing better than to come home to a place that is warm and welcoming.