A masquerade party can be a good idea for a housewarming party, depending on the preferences of the hosts and guests. It can be a fun and exciting way to celebrate a special occasion or just to have a unique and memorable gathering with friends. We will go on to discuss the things to consider when arranging a masquerade housewarming party and how to hang masks on the wall.
Things to consider when arranging a masquerade housewarming party
Here are some things you can follow to help plan your masquerade housewarming party:
At these parties people wear masks on their faces; these party guests dance, sing, and eat all night. If you plan a masquerade party, you need a list of ideas for the wall decorations as these parties are all about masks and lights. Don't worry, as we are here to list some of the fantastic ideas for decorations and how to hang masks on the walls. 
How to host a masquerade party?
Masquerade parties are a great way to have fun and let loose. Mixing up the masquerade party and a housewarming party is a unique idea. Here are a few things you will need to consider while hosting a Masquerade housewarming party. In order to be a good host, make sure everything is figured out well before time.
Choose the right time and date
Choose a date and time suitable for all your guests. Keep in mind the work and school schedules of their kids. A weekend would be the best option.
Advance notice and frequent reminders
As you would be aware of your move-in date, plan the time and date accordingly for the housewarming party. Inform them about your plans well in advance so that they manage to keep their time free.
Set a theme
Choose a theme for your masquerade party, such as "Venetian carnival," "Mardi Gras," or "Gothic glam." This will help you create a cohesive look and feel for your event.
Send Customized invitations
Send out invitations to your guests, either by email or mail, depending on your preference. Be sure to include information about the theme, dress code, and any other important details. Since you are planning a unique housewarming party, it would be good to send out customized invitations as well. Mention the theme of the party on the invitations and invite well in advance so that the guest can prepare accordingly.
Plan a menu that is easy to eat with a mask
Consider serving appetizers, drinks, and desserts that fit with the theme of your party. For example, you could serve Venetian-inspired finger foods like bruschetta and crostini, or Mardi Gras-style cocktails like hurricanes and daiquiris. As the guests will be wearing masks, make sure you serve items that can be eaten even with the masks on.
Decorate and display masks for a party
This is the most important thing to consider. Read further to know how the arrangements can be done and how to display masks on the walls.
Get creative with your decorations! Use masks, feathers, beads, and other festive items to transform your home into a masquerade party paradise. You could also consider setting up a photo booth area with props and background for guests to take pictures in.
Create a playlist
Create a playlist of music that fits the mood of your party. Depending on your guests' preferences, you could include a mix of classic masquerade party tunes and more modern hits.
Provide masks
Make sure you have enough masks for all of your guests. You could provide a variety of styles to choose from, or ask guests to bring their own.
Venue
A masquerade party might not be the best fit for a housewarming party if the new home is small or doesn't have enough space for guests to move around and mingle. It's important to consider the layout and size of the space when deciding on the type of party to host.
Things to consider when hanging on masks on the wall?
Since you have just moved into the house, it would be best if you keep the party limited to one room. While you can arrange it in the backyard, the living room would be a great option too. Once you have everything else taken care of, you come to the point of decorations. To display the mask, you need to keep some of the essential things in mind while arranging the masks on walls;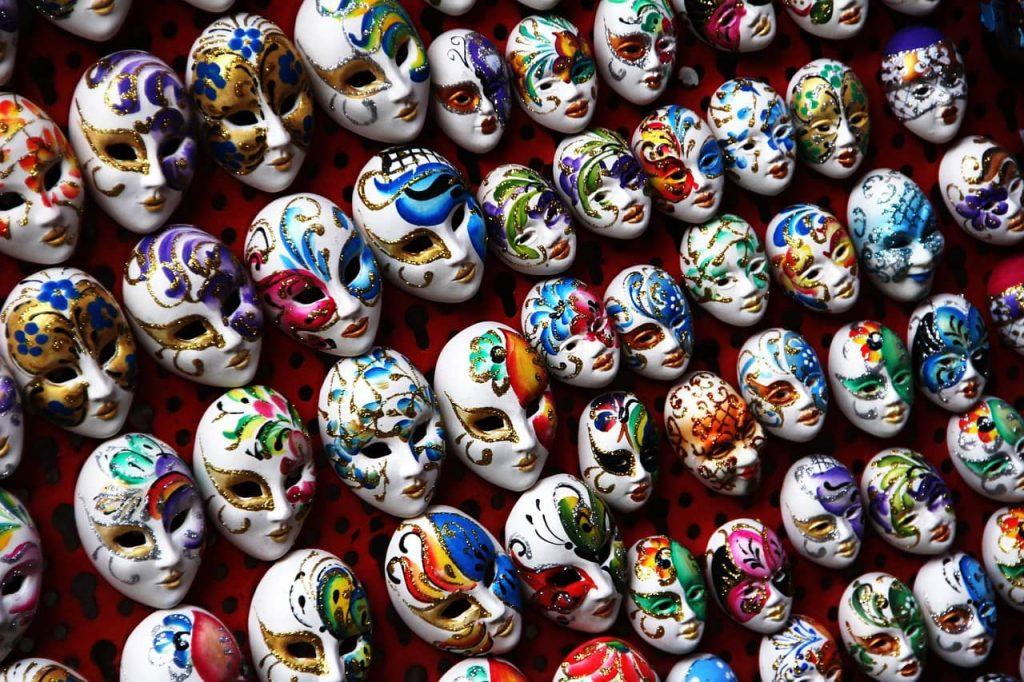 Selection of mask
There are many different varieties of masquerades available in the market; some are good for wearing and some for decorating purposes. 
Bauta mask
Colombina
Medico della Peste
The Volto
Pantalone
Arlecchino
Zanni
Antelope
Jester
Devil masks
Select large masks like arlecchino, antelope, jester, and devil masks that are suitable for wall hangings as these masks are visible more.
Selection of wall
Next comes the wall selection of where you want to hang your mask. This is where you will be arranging your party.  While you can decide this by keeping your home's layout in mind, the living room would be the best option.
Even then, do bear in mind that since this would be the first time the guests have come to your house after you moved in, you must keep the rest of the house well decorated too. This is in case they would like to see the house you have moved into.
Select a light color wall if you are choosing dark and vibrant masks for hanging.
Your selected wall must be clear of any other objects, so your masks become more prominent.
Adequate lighting of different colors is preferable.
Masks can be selected according to the color scheme of your room and furniture too.
Other considerations
If you have only a few masks as you don't want to use all of the masks to be hung and you want some for guests at the party, select a way to hang these few masks in a more presentable way. Like in the first row, attach three masks, and for 3 in the last row and center go for a large mask.
Before hanging the masks, you need to keep in mind your theme of the party, too, as some people arrange Halloween parties and others go with vampire mask parties, select according to your theme.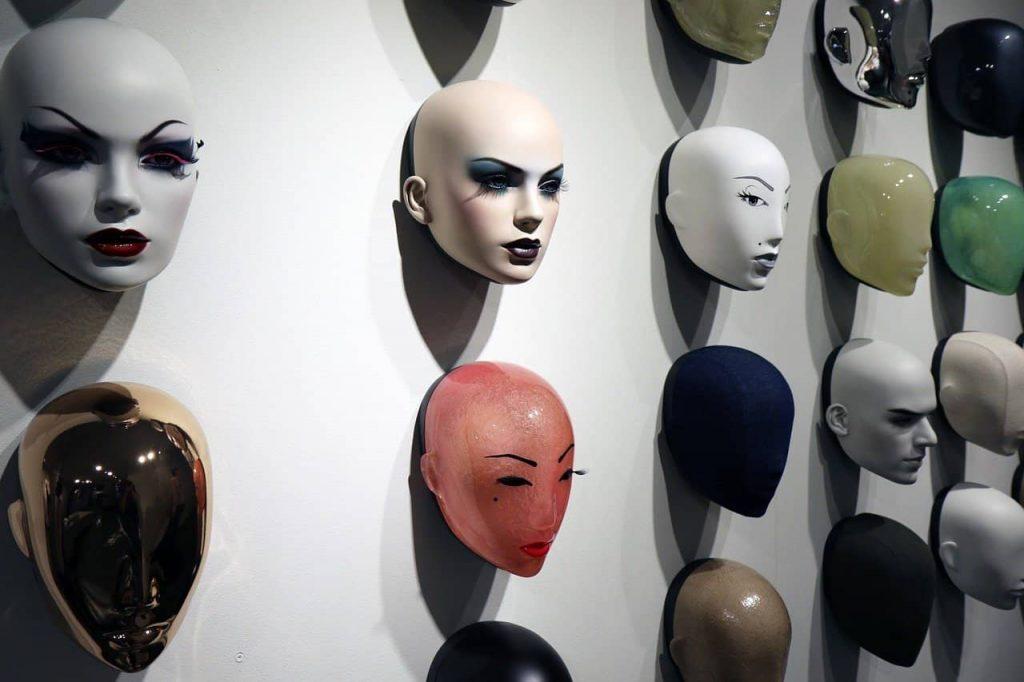 If you have small-size masks, display them at a distance all over the wall. You can hang the masks in front of your wall with ropes like fishing line ropes that are not visible. Your masks will shine out more.
Some ideas to display masks
A variety of tiger masks are displayed on the wall with a yellow light giving a cultural touch
Traditional Indian masks with a vibrant color wall go best with black and brown masks.
In this way, you can decorate your staircase walls.
Hanging pegs can be used to hang masks.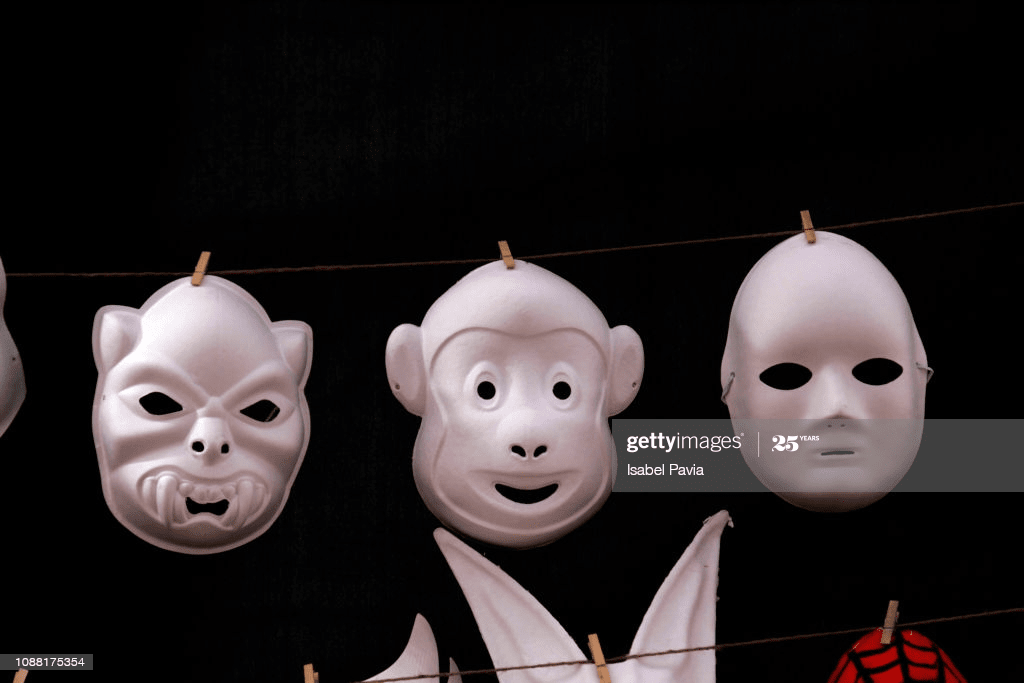 A mask wall art, a grey-colored wall with gold masks. An elegant way of hanging the masks on the wall
How to hang masquerade masks on the wall
After making up your mind about how you will display your wall-hanging masks, the critical part of how you will hang them. Your way of hanging must be clean as these masks need to shine out on your wall. Plus, the hanging style must be effortless on your pocket as you have to do other things for the party too. 
Fishing Wires and Cord
Fishing should be used to hang your masks or have masks that don't have hooks for wall hanging. Lightweight masks can be easily hung with the help of these wires. These fishing wires are transparent, so you can use them to hang these masks, and they will not be visible.
Tie knots with this wire into the eyeholes of your mask and hang these. If you don't want to use nails on your walls, you can find a stand at your house and an old candle or cloth holder; bring it in front of your wall and hang your masks on it. In this way, you will get a portable display and put it anywhere in your house.
Mask hangers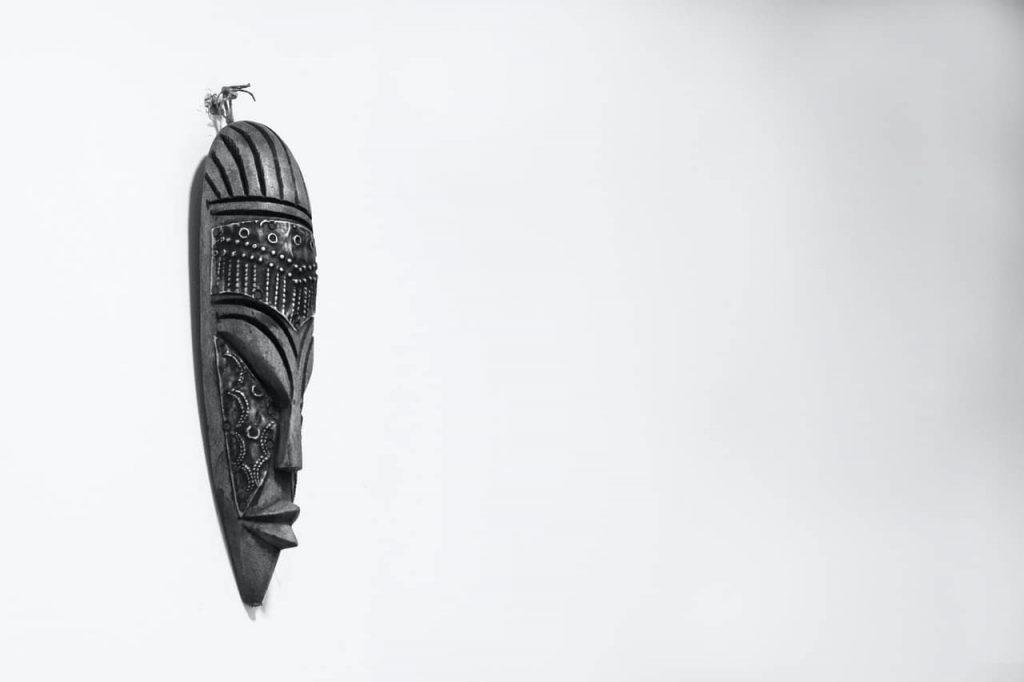 If you have enough budget, you can buy mask hangers. These are available at many shops made up of metal or plastic. You can screw these hangers on your wall and can hang your masks on them. More gigantic masks can be easily hung with this hanger, and your hanger will be hidden. 
Hang from a string or ribbon
Another option is to hang the masks from a string or ribbon. Simply attach the string or ribbon to the top of the mask and hang it from a hook or nail on the wall.
Use picture hangers
You can use small picture hangers to hang masks on the wall. Simply attach the hanger to the back of the mask, making sure it is centered and balanced. Then, use a nail or screw to hang the mask on the wall.
Frame your masks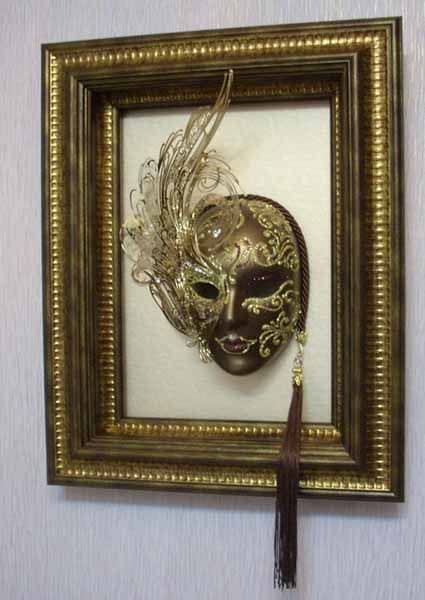 It's a more elegant way to hang your masks at a masquerade party. You can use frames to buy new ones or use the older ones you have at your home. The frame's border should be gold or metallic colored with a vibrant background. You can stick your masks on the frame or attach them to the frame with nails. Framing your masks can be challenging; you can ask a professional to make these for you.
Use adhesive strips
If you don't want to make any holes in the wall, you can use adhesive strips to hang the masks. These strips are easy to apply and remove, and they won't damage the wall.
Using hooks
You can use a variety of cute hooks available in the market to hang your masks. A variety of online stores offer cute and pretty hooks and shelves for wall decorations. These hooks don't need to be hidden, and you can hang your masks in any way using these hooks. You can use hooks that are used to hang mirrors on the walls and doors. These hooks are readily available.
Stick your masks on curtains
All you need for this is a large curtain (color of your choice) and glue of good quality. Curtains are easy to change; if you don't want to damage your wall after the party hanging your masks in this manner is an easy way. You can paste your masks with the help of glue on a black or white curtain. Let them dry after that, and hang the curtain on your wall. You can change those curtains after the party.
Display on shelves
If you have a shelf or mantel that you'd like to use to display the masks, you can simply place them on the shelf. You can also use small stands or easels to elevate the masks and make them more visible.
Conclusion
Overall, a masquerade party can be a fun and memorable way to celebrate a housewarming, as long as it fits the interests and comfort levels of the hosts and guests. Masquerade parties are familiar around the world. If you wish to plan a masquerade housewarming party, these masquerade mask decorating ideas will help you decorate your walls.
We have listed some of the new ideas to hang masks on the wall. Select the idea that goes with the theme of your party and make your party memorable.