In interior design, one tool that can make or break the layout and flow of a room is the carpet and rug you use. Homeowners have a vast selection when shopping for carpets and rugs. Some of the most popular ones include Persian rugs and Anatolian carpets.
Comparison between Area rugs and carpets
Aside from the type of carpet, the style and shape play a significant role when decorating. This article will highlight some of the major differences between area rugs and carpets.
Area rugs
Area rugs are large and will cover most of the floor space in any room. Generally, these rugs anchor furniture to the floor, creating a sense of harmony and comfort in the home.
The first step in decorating your home is choosing an area rug that will suit your color, taste, and furniture style. You can select from many area rugs, including a sophisticated one from the villa carpet collection. Now that we know a little about area rugs let us consider their pros and cons.
Pros of area rugs
Area rugs come in various shapes (rectangles, squares, circles, and ovals) and sizes. The smaller rugs start around 2 x 3 feet in size and can go up to 10 x 14 feet. The size of the rug will determine its placement in the room.
Area rugs are best suited for high-traffic spaces such as the living room, dining room, and home office. High-quality area rugs in these rooms can protect the floors from stains and dirt. An example of how area rugs should be placed can be seen in the picture below.
Area rugs come in many different colors and patterns. This can make decorating the room quite easily. For example, a bright-colored area rug will work if the walls and upholstery in a room have tons of white, brown, and cream. When choosing an area rug, it is best to consider the color scheme and design of the room first.
An added benefit of area rugs is that they aren't anchored to the floor. These rugs are removable, which makes cleaning much easier.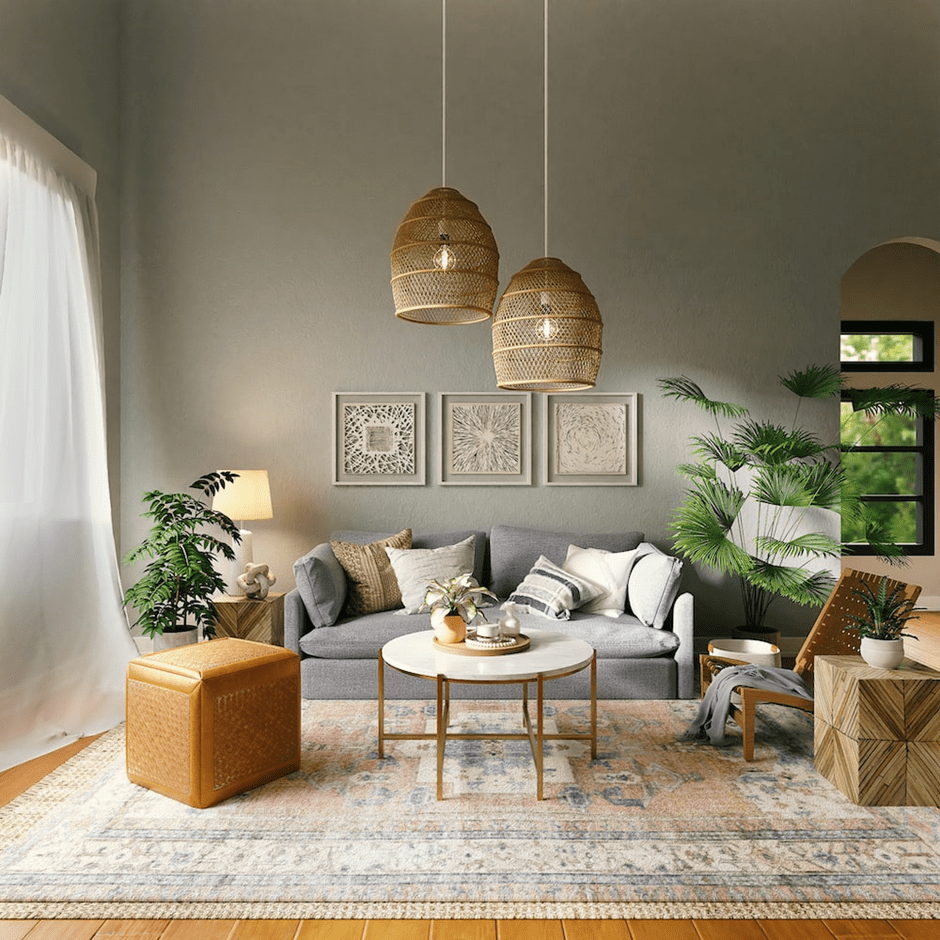 Cons of area rugs
Area rugs can be thick, increasing the chances of slipping or falling. This is particularly the case if the edges of the rug lift. One method to overcome this is to anchor the rug with furniture or use a rug pad under the area rug.
Area rugs will only cover some part of the floor in a room. If you want to cover the entire floor in a room, then an area rug will not work.
Carpets
A carpet is a thick woven floor covering that covers the entire floor in a room. Carpets are one of the most popular floor coverings used in homes. Similar to any decorative tool, carpets have their advantages and disadvantages.
Pros of carpets
Carpets consist of an upper layer of the pile with a backing. This helps to reduce any noise made when you walk. The carpets used in today's homes are made from synthetic fibers such as nylon, polypropylene, or polyester. Each of these materials adds to the durability and life of the carpet. For example, nylon is heat and stain-resistant, whereas Polypropylene is fade-resistant.
Carpets are much thicker than rugs which help to cushion your footsteps. Carpets are wall-to-wall floor covering. As such, there is no danger of having an uneven surface or falling. In addition, carpets provide some thermal insulation that can protect you from the cold during winter.
Carpets are relatively easy to clean and maintain. The easiest and most cost-effective method is to vacuum, steam clean, or dry clean the carpets in your home.
Cons of carpets
The main disadvantage of carpets is that it needs installation. Carpets span over the entire floor of a room and need a professional team to install and remove them. Furthermore, there will be an additional cost when the carpet needs to be replaced.
If carpets aren't cleaned often, they will hold quite a bit of dust particles and dirt. This might lead to allergies or create issues for those who have asthma.
Deciding between an area rug and a carpet
Area rugs and carpets have many similarities. The main difference is that an area rug is much smaller than a carpet. When deciding which floor covering to use in your home, there are many factors to consider. That's why, to help you choose, we have outlined some of the pros and cons of area rugs and carpets.