Rose petals kiss the floor with romantic candles, intensifying the scene. Sounds like a dreamy plan! Is your special day the wedlock? Or are you planning a passionate Valentine's Date Night to take the next step? Whatever the reason be, room decoration with flowers and candles is something you need for some excitement.
Saying it out loud or asking the main question – both depend on the way you express your feelings. Being in love is an amazing feeling as the floral room decor ideas can undo all worries.
How to decorate the room with flowers and candles
If you are a passionate lover out of ideas for the special evening, keep reading further. One of the most enticing ways to decorate the bedroom quickly is by using a plethora of balloons and bouquets of roses you can easily order from Bouqs.com.
We can help you with amazing ideas from placing romantic candles in the bedroom to decorating the bathroom with red petals as everything seems remarkable on a romantic night.
Romantic red balloons and roses to decorate the couple's bedroom
One of the most enticing ways to decorate the bedroom quickly is by using a plethora of balloons. Prioritize heart-shaped red balloons for the best moment and scatter flower petals all over the room. For flowers, red, pink, and maroon are shades that will always work for your partner. You can introduce white for the coziness and black for the fire. However, none would match the vibes coming from red petals. Try to keep the balloons floating above your head and create a dreamy bed with wet rose petals.
Paper Hearts, Roses, and Candles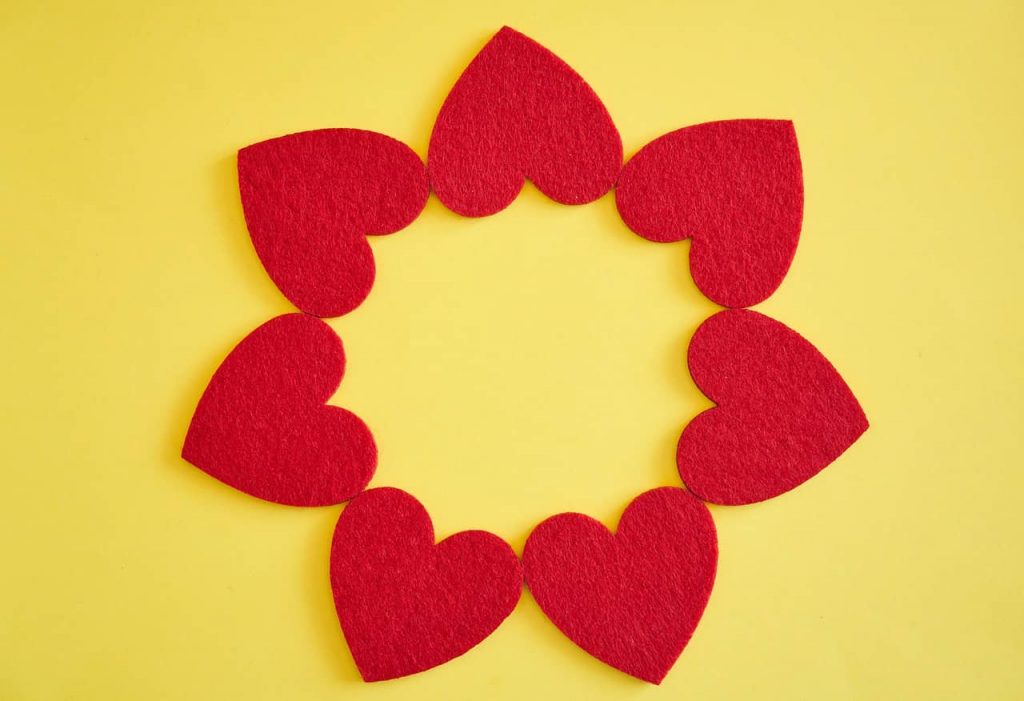 For such ideas of room decoration with flowers, you need to be an art and craft person. Cutting paper hearts in red and pink will do the work.
Stick glitter paper hearts all over the wall and hang balloons on the corners. Now, place romantic candles in the bedroom and let the fragrance fill your space. Cover the headboard, bedside table, and dresser with rose petals. Write phrases like 'Te Amo', translated to 'Be Mine' with petals on the bed, and prepare it well.
Red Tea-Light Candles and Sprinkled Roses
The date night and your romance is not always about the bed. Make arrangements in the closet, bathtub, and sofa as well. Everything about your special moment depends on the choice of your partner. T-candles or tea lights are an amazing choice for a passionate decoration. For that fragrance, you can use a Scentsy warmer in the room.
Write down the date and your question on the floor with these candles. Now, sprinkle rose petals over the bed, sofa, and floor. Also, you can create a heart on the floor with roses and candles. Remember, tea candles are inexpensive so you can buy many at a time.
Heart-shaped rose petals and candles in the bedroom
Room decoration with rose petals and candles in the bedroom is not difficult. You can create and recreate the look of your bedroom every night if you want. To do this, keep the room free of any decoration. If you know how to decorate candles, things can be more comfortable here. Make a huge heart around your bed by using rose petals. Use romantic candles in the bedroom and make a borderline of the heart. Grab her in your arms and place her in this heart.
Prepare a love swan by using towels on the bed. Let your partner see it closely when she stands close with the petals kissing her feet.
Prepare an Aisle of Roses and T-Candles
Decorate the room with rose petals and candles to make sure an aisle welcomes you into the bedroom. This floral room decor idea is independent of the size of your room. This helps your partner recall how the most important person welcomed them.
Keeping the view in mind, prepare an aisle of red roses and silver T-candles all the way to the bed. Decorate the bedside table with white and red aromatic candles. You can also use fairy lights if there are any curtains around your bed. Use red ribbons on the pillows and place a cake on the bed if you like.
Express Your Love with Red Rose Petals
The three magical words – I LOVE YOU can add everything to your life. Skip all the fancy floral room decor ideas and be straightforward. On a clean white bed, scatter red rose petals and write the three magical words of love and intimacy.
Keep things soft and cozy with heart-shaped pillows and romantic candles in the bedroom. You can combine red, black, and white candles if you like. These will add to the aroma and softness of your space.
Welcoming Bed Decoration with Flowers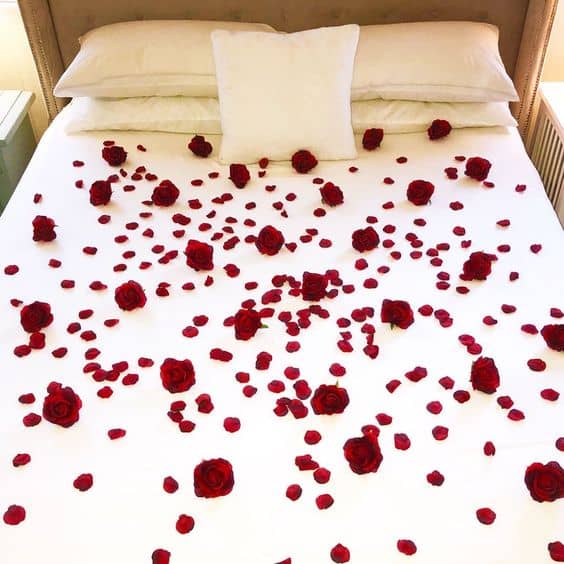 Te Amo and I Love You are not the only words to express your emotions. If your partner is returning home and you missed them every second, write 'Welcome Back,' 'Welcome Home,' or 'Welcome Darling' with rose petals on the bed.
You can make it cozier with aromatic white and pink candles on the floor. Also, you can place these around the bed or on the table. Think of a mouth-savoring dinner and decorate the dining table with t-candles, roses, and glitter. Soft lights and romantic music in the room will surely add to the warm welcome.
Passionate Floral Bathtub Decoration
Valentine's Day and date night celebrations are necessary, but many have a personal sense of romance. A bathtub makes somewhat an ideal spot for cherishing your love life. If you plan a lavish, passionate, and intimate moment, make sure the bathtub looks inviting.
Place romantic candles in the bathroom and sprinkle rose petals over the floor. Red and pink petals are perfect for the bathtub. While you place your drink beside the mirror, make sure not to miss the essential oils.
Helium Balloons with Roses and Pictures
If you plan to decorate yourself with flowers and candles, you may have known each other for a long time. If it is your anniversary date night, helium balloons can add some fun to the floor room decor.
Print your most romantic moments or write down love notes on small paper. Place these balloons above the bed and tie a string down with each. Now hang pictures and notes with these balloons. Wrap rose petals all around the string or hang a rose at the bottom.
Rose Petals and Candle Staircase
Until now, you know how to decorate the room with flowers and candles. For any of the ideas, you select, add charm at the room entrance. If you have stairs in the bedroom or outside, place rose petals all over these. Place tea candles or aromatic wax candles on the corners for a passionate invitation.
In such cases, make sure the room is romantic enough as it seemed outside. I prefer floral room decor and decorating the room with rose petals and candles. Keep the lights turned off and surprise them when they enter.
Also, you can cover the floor with rose petals right from the door. Hang rose petals on the door using wet threads if you like.
Final Thoughts on room decoration with flowers and candles
These are the best ideas for room decoration with flowers and candles. You can work wonders with them and make the most of your moments. Give importance to them and prioritize their feelings. Make your partner feel special, and let rose petals make all the love.