Your backyard space is a fantastic asset, especially in the summer months. It's great for kids and pets to run and play in their own little world. A swimming pool can make your backyard more fun, but when that comes to an end, there are plenty of creative ways you can reclaim that space.
Transforming your backyard after taking down an above ground pool
Get started with these awesome transformation ideas after removing an above ground pool from the backyard.
Patio outdoor living space
A backyard patio is a perfect way to increase the living area of your house, and it can be relatively easy to install. If you have an existing deck or concrete slab in place, great! You can start by painting it and add some new outdoor furniture for summer lounging, then put out some potted plants for color. If your above-ground pool was small, you might be able just to add a patio cover and some chairs, but if it was large or you have the room for an extensive outdoor living space, there are many fun things that can maximize your yard.
Outdoor living spaces don't have to have all-day sun. With some countertop umbrellas, patio heaters, and flowering pots for shade plants, it is possible to enjoy your yard during the cooler months as well. You can also maximize a smaller area by removing fencing or shrubbery that will block the sun during certain times of the day. With some good planning, you can turn your space into something functional and wonderful.
Here are some patio ideas:
Add artificial turf with wooden decking
Add a small swing set for the kids
Add some hanging vegetable plants
Add built-in benches and bedding plants for color
Build some form of countertop or ground umbrella for shade
Add some lighting to see your yard at night or for evening entertaining
Play structure for the kids
After removing your above-ground pool, one of the most practical and cost-effective options is installing an artificial turf playground for your kids and pets. A play structure can be designed with swings or slides to make a great space for kids. If there are pets in the family, this space is great for them too. Artificial grass is soft and can be used in all weather conditions, including rain or snow. It's safe, requires minimal maintenance, and is extremely easy to maintain and cost-effective long-term.
With the right planning, you can transform that empty space into an amazing play area the kids will love. You can also include a sandbox and a playhouse to make it a truly special outdoor experience. Artificial turf installations are perfect for families who want to spend as little time as possible on yard work. The kids will love to be outside in their new backyard. You can't ask for a better replacement when taking out an above-ground pool.
Outdoor BBQ and kitchen area
Another great way to enjoy your space is by adding an outdoor grill and kitchen area. If your pool was located near your house, this would be a good location for it as well. You can add a grill and some outdoor seating that makes this space great for hosting parties. It will be perfect if you want to entertain guests throughout the year. If your pool was located in another area of your yard, still consider adding an outdoor kitchen or BBQ near it so that it's closer than having to walk across the whole backyard.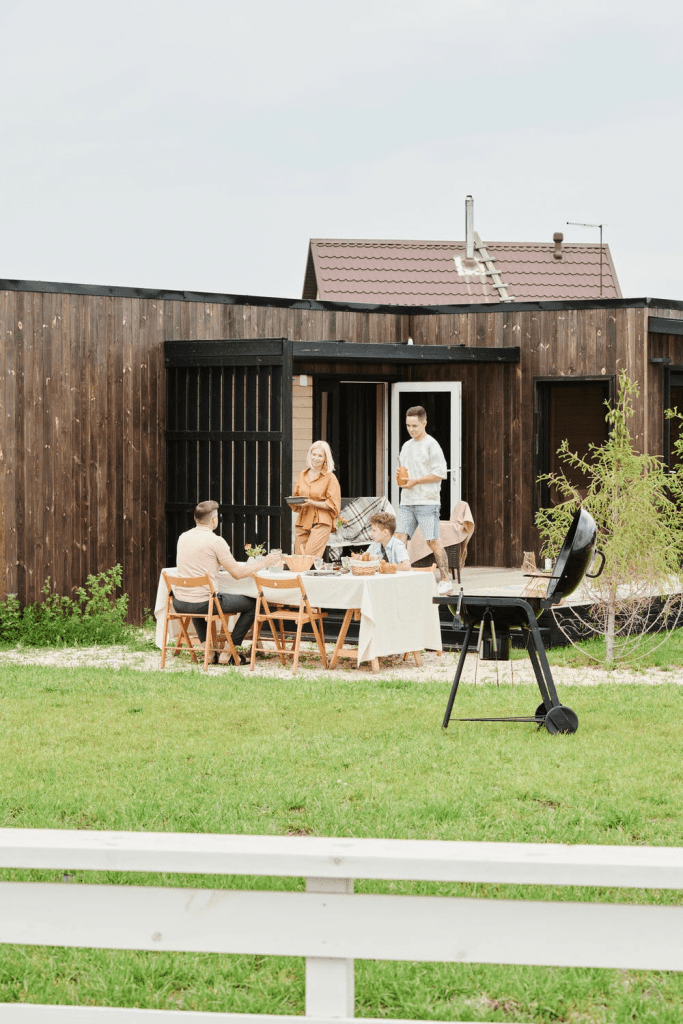 When buying appliances for your outdoor kitchen, consider what you would need to cook the types of meals you enjoy. If you have a preference for Mexican food or Asian cuisine, look at getting a grill with side burners so that your pans can sit right on top and be seared by flame. Keep in mind that this can be a significant investment. If a grill and kitchen area is not something that would fit into your yard, or if it seems too expensive, don't worry. There are many other options for enjoying the space after taking down an above ground pool from your backyard.
Putting green for golf practice
Another great idea is an artificial turf putting green. If you have the space, it's like having an outdoor mini-golf course all year round at your disposal. Artificial turf is a great option for backyards because it requires little to no maintenance and can be enjoyed in all seasons. Many artificial turfs are designed with the texture of real-life putting green sod. This allows you to practice your short game without having to do any serious landscaping work or waiting long periods of time for the grass to grow.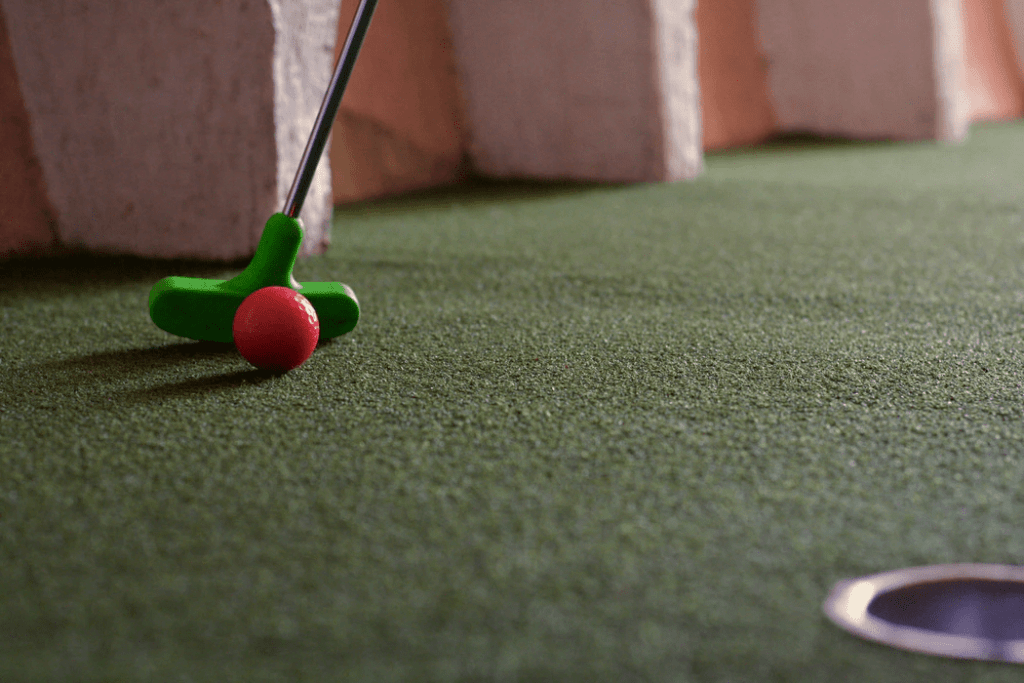 An outdoor putting green is a great addition to your backyard. It's one of those additions that is sure to draw attention every time you have guests over. When combined with outdoor living space and a small BBQ, you're sure to have a great day every time you're hosting family and friends. If done right, any aesthetic and functional additions in your backyard can add value to your home too.
Fire pit
If you're looking for a way to add some fun and warmth to your backyard, consider installing an outdoor fire pit. It can be used year-round since the fire is contained within adjustable walls that protect it from windy conditions or rain showers. Fire pits also come in all shapes and sizes with many different materials like concrete, stainless steel, and marble. Some fire pits even come with a cooking grate that can cook up classic s'mores, hot dogs, or any other grilling favorites!
In addition to warmth and fun, an outdoor fire pit is also useful for adding light into the backyard at night time. What makes this option different from installing landscape lighting that is often used in this situation is that a fire pit's light is ambient and creates a cozy atmosphere.
For the best of both worlds, you can install an outdoor water feature next to your new fire pit area so family members can enjoy two forms of entertainment in one place.
Garden
Another way to make use of the space is by planting a garden. Gardening is an incredibly rewarding hobby and can add color, life, and fresh air to your backyard. If you love working with plants or flowers, then growing them yourself would be a great option for this extra yard space after removing the pool. The first step is to pick the perfect plants and flowers for your garden, as you need to match their needs with the light and soil conditions in your backyard.
Remember that you need to work around the compacted soil of your backyard, so you should consider planting perennials that don't require a lot of digging or tilling. Going with gravel and rocks might also be a good idea as it also adds great texture to the garden. As far as watering goes, most flowers don't need a lot of water.
Take a look at some of these additional gardening ideas:
Creating a vertical vegetable garden
Grow edible plants in your garden
Making planters out of old tires or wooden crates
Incorporate cascading vines into hedges or trellises
You can even put an herb garden on a sport in your backyard
Outdoor fitness area
If you love working out, you can consider having a fitness area in your backyard. It will be easy to get started by planting some hedges or putting up an arbor. This will provide enough privacy for outdoor workouts while still maintaining the open feel of the yard. If there is space without taking away from other elements such as play areas or garden spaces, you can add in turf for doing exercises such as push-ups and sit-ups.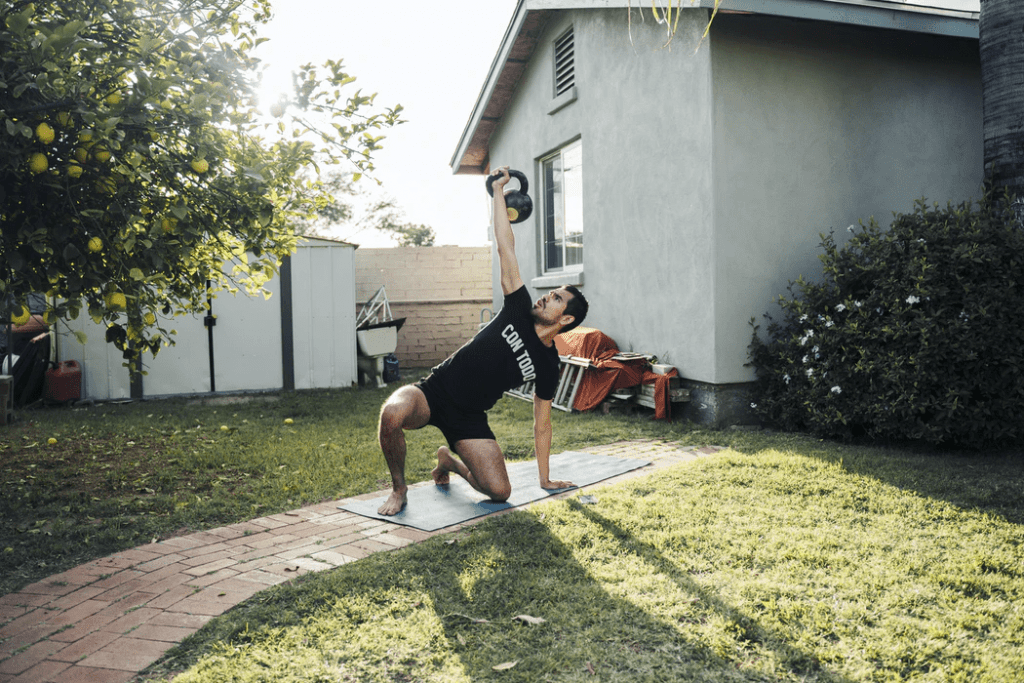 It's also easy to use your outdoor space as a yoga studio with the addition of some mats, pillows, and bolsters. With more people embracing home workout routines, you can even consider adding a few pieces of equipment such as kettle bells and pull-up bars for those who want to work out with more resistance. An outdoor workout space is also easy to maintain since it requires only basic supplies instead of expensive chemicals required for pool upkeep. Adding artificial grass will make this area low-maintenance while also providing a soft surface for workouts.
Making the most of your backyard
What matters the most is the functionality of your yard. You should plan accordingly to make sure that you get an area where people can take part in activities they enjoy doing while still maintaining a good aesthetic for regular guests and family members who visit often. On the other hand, you could also choose to leave your yard empty and just install an artificial grass lawn. Not only will this save you money, but it is also much easier to maintain than a regular lawn.
Whatever your decision may be, make sure that the plan matches what you want out of your yard and consider taking into account how each idea would benefit or affect your lifestyle. Plus, you must also consider the cost of the backyard upgrades and upkeep to ensure that you can keep up with the demands of your backyard additions. Remember, it's all about choosing a plan that will help enhance your lifestyle and make sure it's something everyone can enjoy for years to come.